Dear Mr. Bockhorst,
Thank you for you inquiry. There is a chance that we will need to add a few more folks as field techs over the next several weeks. Be aware, however, that these are hourly positions with no benefits for which the rate is $9.50-11.00, depending on experience. Though the prospects are good for fulltime work over at least the next 2-3 months, if not longer, there are unfortunately no guarantees (i.e., there may be brief episodes with no work due to bad weather or unforseen circumstances that delay fieldwork). I don't mean to discourage you, but given that you would have to relocate to within commuting distance of Williamsburg to accept such a position, I want to ensure that you have realistic expectations of the type of opportunity we have to offer here, especially since you have an MA and may be overqualified for such a position.
On the other hand, depending on your career goals, I think there are lots of opportunities in this region given a relatively high number of CRM firms and academic programs in historical archaeology, archaeology, historic preservation, etc.
If you are still interested in the field tech position here, I'd recommend contacting me when/if you get a specific sense of your availability. If we still have an opening at that time, and can confirm that you'd be qualified, it would be a relatively quick process on our end to bring you on board without delay.
I hope this helps. Let me know if you have any questions, and best wishes on success in your job search.
Sincerely,
Joe
Okay, so I didn't apply for anything today. I went to the gym, came home and watched Jackie Brown. It's Friday night, whatdya want?!
Anyway, what the above seems to indicate is that there is archaeology back East for the likes of me, and the lower end stuff pays about what it does here. The question now (and feel free to jump in): How to proceed?
1. Stay here for a while longer. I might have to do this anyway, as Janine will be waiting until probably March to discover her law school fate -- she's taking the LSAT in February, and applying to schools simultaneously. If she gets in, a lot's going to depend on where she wants to attend. If she doesn't, there's nothing keeping us here besides inertia.
1a. Stay here for a while longer and possibly climb the career ladder until we hear about law school. There's already been talk of me being hired on as crew chief sometime reasonably soon, and there's a position open for a project next month for assistant crew chief. Either would be a promotion. And having that on a resume would mean being taken more seriously for bigger jobs back East. So maybe I get one or two of these in the upcoming months and then look for something substantial up Yankee way.
2. Bug out now and take something like the job essentially offered above for a few weeks, using that time and networking potential to land something more lucrative in the future. That would mean leaving Janine here, which neither of us would like much, but greater good and all. I'd probably come back to Tucson temporarily, after I'd made some contacts and secured long-term employment, and if law school falls through, we pick up, move East, and Janine starts a tea shop and I dig by day and knit doilies by night.
Anyway, that's me thinking out loud. Tomorrow, more resumes traveling at the speed of light.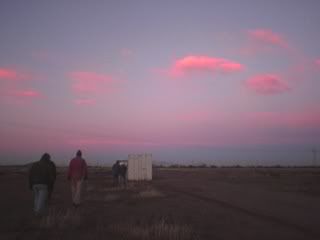 Work. Kind of.